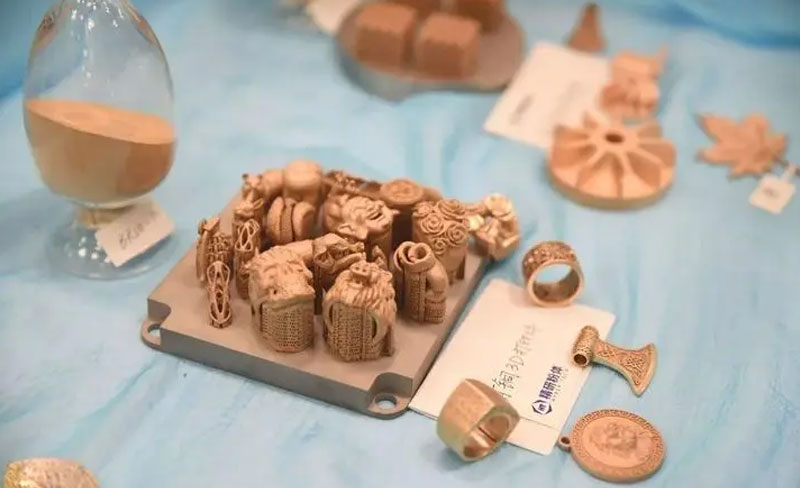 Bronze

3D Printing Services
Bronze is the earliest alloy in the history of metal smelting and casting, and the addition of tin or lead to pure copper (purplish copper) has special importance and historical significance. Compared to pure copper (purplish copper), bronze is strong and has a low melting point (25% tin smelting bronze lowers the melting point to 800°C. Pure copper (bronze) has a melting point of 1083°C). Bronze is castable, wear resistant and chemically stable.With the maturity of 3D printing metal machines, the material bronze has gradually been incorporated into printing and has been widely used in recent years for exhibits, jewellery, personalised customised gifts, complex trophies etc.Below you will find a list of the advantage, but we regularly quote variations of all material types.
Hold ISO 9001:2015 certification for 3d printing bronze services.Provide fast and premium shipping of 3d printing bronze parts or componentsglobally
We has automated slm 3d printing machines for qualityproduction.
Manufacture low to a high volume of 3d printing bronze products
The 3D printing bronze material can be used in the selective laser melting (SLM) forming process to manufacture parts that are not limited by geometric shapes, shorten the product development and manufacturing cycle, and can quickly and efficiently manufacture small batches of complex parts.
The Case Studies Of

Bronze 3D Printing
Some examples of 3D printed bronze are shown below.
The Characteristics Comparison Of

Bronze
| performance | standard test | unit | value |
| --- | --- | --- | --- |
| production density | | g/cm3 | >8.78 |
XY direction
Printing performance
tensile strength
Yield
ISO6892-1
MPa
500+50
Strength
ISO6892-1
MPa
380+40
Elongation
ISO6892-1
%
30+10
After Break
Hardness
ISO6507-1/ISO6508-1
HV/HRC
130+15 HV5/15
XY direction
Heat treatment performance
tensile strength
Yield
ISO6892-1
MPa
N/A
Strength
ISO6892-1
MPa
N/A
Elongation
ISO6892-1
%
N/A
After Break
Hardness
ISO6507-1/ISO6508-1
HV/HRC
N/A