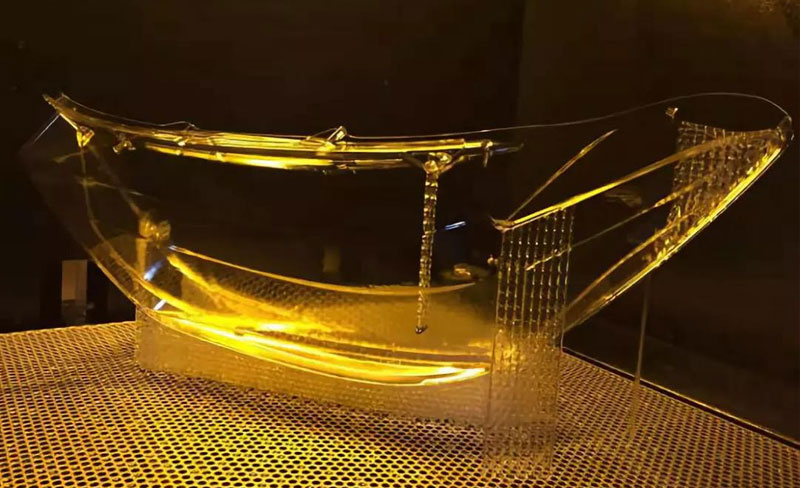 3D Printing

Clear Resin(9100)
Imported clear resin 9100, this 3D printing material with its extraordinary optical clarity, excellent moisture resistance, ease of use and finish produces colourless, simulated acrylic appearance, mostly for functional and precision parts.
Parts produced with 9100 have excellent resistance to water and high temperatures. Depending on the post-treatment process translucent and fully transparent can be produced.In the cases produced by Wonder Tech, the main applications for such printed parts are.
Concepts and functional models for fluid flow analysis.
Functional tests in optical transmission work.
Models of automotive headlights and taillights.
Models of electronic screen exteriors, etc.
The 3d printing clear resin material can be used in the multi 3D Printing forming process to manufacture parts that are not limited by geometric shapes, shorten the product development and manufacturing cycle, and can quickly and efficiently manufacture small batches of complex parts.
The Clear Resin 3D Printing Applications

For Automotive Parts And Components
The automotive industry is now more widely using 3D printing as a process for hand verification and small batch production, and the unique requirements of light transmission for headlights require the use of this transparent resin.
The development of automotive components often requires a long period of validation work. The traditional process is to design the part, then develop and produce a mould, then manufacture the physical part and test the physical part to determine if it meets the product design requirements, and make corrections to the design or mould if it does not. This process is time consuming and costly.
Applying 3D printing technology to the development of automotive parts can quickly verify the working principle and feasibility of complex parts, eliminating the need for mould development and reducing time and capital investment.
Traditional automotive parts development cycle is usually more than 45 days, while 3D printing can complete the development and verification process of parts in just 1-7 days, which can greatly improve the efficiency of new product development. Moreover, 3D printing does not require moulds in the process of developing parts, which can save a lot of costs.
Headlights are the lighting tools of a vehicle, which can be divided into two kinds of lights and signals according to their functions, and headlights play an important role in the process of safe vehicle driving. Car headlights are part of the exterior lighting of the vehicle and are vital in the automotive manufacturing industry. The requirements for the material are that it must be highly transparent like most guiding light sources and be clearly visible to the driver from a long distance on the road, with a high level of material transparency required for its lampshade components.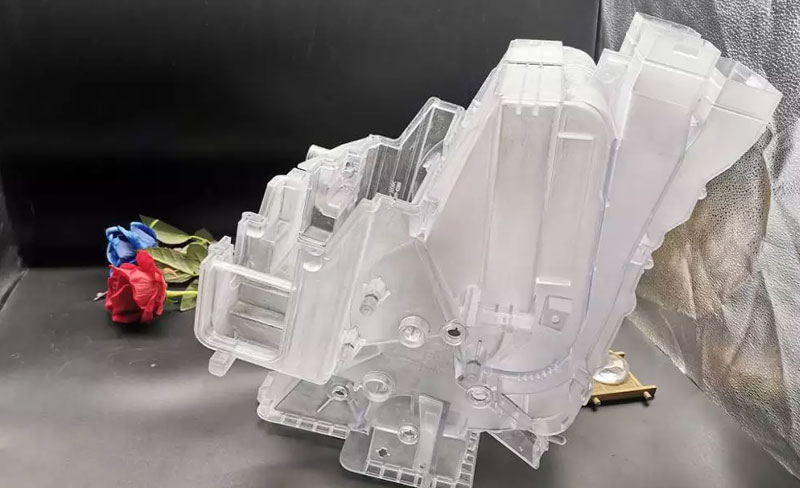 This transparent resin material is post-treated and polished to an effect comparable to PMMA material and is suitable for exterior verification and assembly verification.However, this material is less tough so be careful of breakage caused by excessive force on the print during use.
The Characteristics Comparison Of

Imported Toughened Resin
The price of Clear Resin 9100 is 3.5-4RMB/g on the Wonder Tech website, so you can buy it according to your needs.In order to facilitate you to more accurately understand the physical properties of the material you can refer to the table to compare your use of the environment.
| Performance | standard test | unit | value |
| --- | --- | --- | --- |
| Viscosity | | cps @ 3o"c | 165 |
| Critical Exposure | | mJ/cm2 | 4.7 |
| Young's modulus | ASTM D638 | MPa | 288 |
| Tensile strength | ASTM D638 | MPa | 56 |
| Elongation | ASTM D638 | | 0.075 |
| Notched Impact Strength | ASTM D256 | J/m | 25 |
| Heat deflection temperature @0.46 Mpa | ASTM D648 | ℃ | 47″ |
| Heat deflection temperature @1.81Mpa | ASTM D648 | ℃ | 47″ |
Imported Clear resin (9100)
Wonder Tech Is Committed To Providing You With The Most Comprehensive Range Of Materials Available, To Getting You The Best Discounts While Maintaining Quality, And To Choosing The Best Match For Your Material Printing Solution.
The Case Studies Gallery Of

Imported Clear Resin 3D Printing
Due to the fluidic nature of the resin and the precision of the laser, the surface of the print often has a high degree of smoothness and is often used as a cosmetic verification part. The diagram below shows some examples of this resin material being used for the verification of the appearance of hand boards. The imported clear resin also performs well when producing such highly complex prints, with a very fresh and smooth structure.