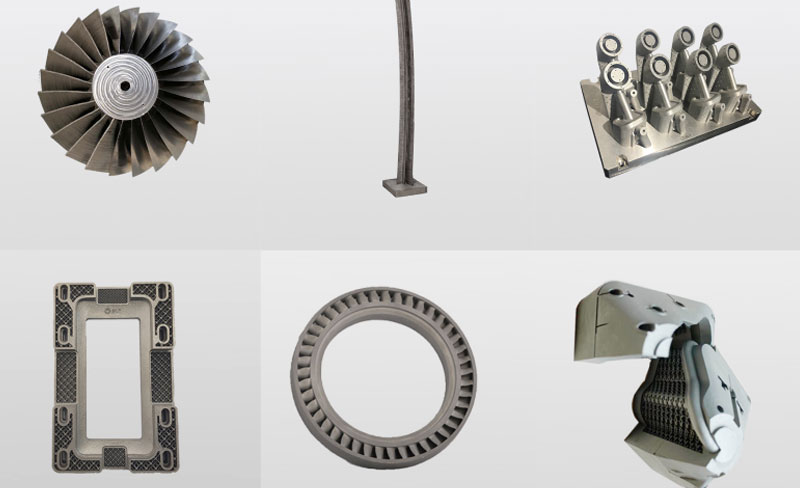 Stainless Steel

3D Printing Services
3D Printing complex and precision stainless steel parts is highly challenging. Wonder Tech's manufacturing team has mastered these challenges through 20 years of experience.
Wonder Tech has an extensive history 3D Printing some types of steel. We also have capabilities for cnc machining stainless steel and more. We know the unique properties of stainless steel and modify the production process to maximize productivity and produce high quality, state-of-the-art components for our customers. Below you will find a list of the advantage, but we regularly quote variations of all material types.
Hold ISO 9001:2015 certification for 3d printing stainless steel services.Provide fast and premium shipping of 3d printing stainless steel parts or componentsglobally
We has automated slm 3d printing machines for qualityproduction.
Manufacture low to a high volume of 3d printing stainless steel products
Conventional Stainless Steel Manufacturing Vs

3D Printing Stainless Steel
The application of 3D printing stainless steel is mainly due to several difficulties in the manufacturing of traditional custom stainless steel parts.
difficulties 1
Severe work hardening
Some superalloy stainless steels tend to work hardening during cutting, which is usually several times of that of ordinary carbon steel.
When cutting in the work hardening area, the tool life will be shortened.
difficulties 2
Large cutting force and high cutting temperature
Stainless steel has high strength, large tangential stress and plastic deformation during cutting, and thus large cutting force. In addition, the thermal conductivity of the material is extremely poor, which causes the cutting temperature to rise, and the high temperature is often concentrated in the narrow area near the edge of the tool, thus accelerating the tool wear.
difficulties 3
Easy to stick knife
Stainless steel has the characteristics of strong and tough chips and high cutting temperature.When the strong and tough chips flow through the front tool face, the tool adhesion phenomena such as adhesion and fusion welding will occur, which will affect the surface roughness of the machined parts.
The 3D printing stainless steel material can be used in the selective laser melting (SLM) forming process to manufacture parts that are not limited by geometric shapes, shorten the product development and manufacturing cycle, and can quickly and efficiently manufacture small batches of complex parts.
The Appilcations Of

Stainless Steel 3D Printing
As far as the material itself is concerned, austenitic stainless steel 316L has high strength and corrosion resistance, and can be dropped to low temperature in a wide temperature range. 316L stainless steel also has good resistance to chloride corrosion.Main application directions:
Manufacturing of automotive parts;
Manufacturing of ship spare parts;
Manufacturing of spare parts for the nuclear power industry;
Manufacture of spare parts for oil exploration;
Jewelry, watches, glasses models, etc.
The Characteristics Comparison Of

Stainless Steel
Material
316L stainless steel
316L stainless steel
17-4PH stainless steel
17-4PH stainless steel
15-5PH stainless steel
Print Status
Heat Treatment State (Stress Relieved)
Print Status
Heat Treatment State
Print Status
ultimate tensile strength
720+30MPa,(XY)
620+50MPa
970+30MPa(XY)
1120+30MPa(XY)

1100+50MPa(XY)
550+55MPa,(Z)
620+50MPa
860+30MPa(Z)
1090+30MPa(Z)
1100+50MPa(Z)
Yield Strength
620+30MPa,(XY)
560+50MPa
920+30MPa(XY)
1090+30MPa(XY)
975+50MPa(Z)
470+90MPa,(Z)
560+50MPa
840+30MPa(Z)
1070+30MPa(Z)
975+50MPa(Z)
Young's modulus
185GPa,(XY)
160GPa
180+20GPa
180+20GPa
170+20GPa
180GPa,(Z)
160GPa
180+20GPa
180+20GPa
170+20GPa
elongation at break
30+15%(XY)
36+4%
22+2%(XY)
20+2%(XY)
18+2%(Z)
40+20%(Z)
36+4%
24+2%(Z)
20+3%(Z)
18+2%(Z)
hardness
90HRB
85HRB
25-28HRC
30HRC
27-31HRC
Element
620+50MPa
560+50MPa
160GPa
36+4%
85HRB
Cr:17~19;
Ni:13-15;
Mo:2.25~3;
C:<0.03;
Mn:<2;
Cu:s0.5;P:≤0.025;
S:≤0.01;
Si:<0.75;N:<0.1;
620+50MPa
560+50MPa
160GPa
36+4%
85HRB
Cr:17~19;
Ni:13-15;
Mo:2.25~3;
C:<0.03;
Mn:<2;
Cu:s0.5;P:≤0.025;
S:≤0.01;
Si:<0.75;N:<0.1;
C:<0.07;
Si:<l;
Mn:1;
P:<0.035;
S:<0.03;
Ni:<3~5;
Cr:15.5~17.5;
Cu:3~5;
Nb:0.15-0.45;
Fe: balance
C:<0.07;
Si:<l;
Mn:1;
P:<0.035;
S:<0.03;
Ni:<3~5;
Cr:15.5~17.5;
Cu:3~5;
Nb:0.15-0.45;
Fe: balance
C:<0.07;
Si:<l;
Mn:<l;
Cr: 14~15.5
Ni: <3.5~5.5;
Cu: 2.5-4.5;
Nb+Ta: 0.15~0.45;
P: <0.04;
S: <0.03;
Fe: Yoze
Forming precision
Small parts: soil 50um;
Large parts: 0.2%
Small Parts: 60pm; (Size <50x50x50mm3)
Small parts: soil 60um;
Large parts: 0.2%
Application direction
Personality of metal prototypes, handicrafts, tooling, medical equipment, etc.
Martensitic Precipitation Hardening Stainless Steel, Equivalent To Chinese Brand: 0Cr17Ni4Cu4Nb, Used To Manufacture Shafts, Gas
Turbine Parts.
Martensitic precipitation hardening stainless steel has good processability, excellent mechanical properties, and good resistance to general corrosive environments. Applications: Aerospace, aircraft parts, components manufacturing high pressure valves and other corrosive environments, grooved fasteners, equipment and equipment